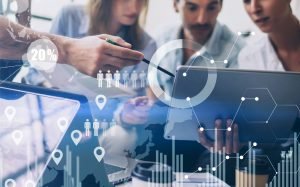 Virtually everyone has an opinion about how to manage a campaign, ballot initiative, or political advocacy effort. Of course, without hard data, many opinions are of limited value. Data provides the foundation for our beliefs. Campaigns and advocacy groups that are not data-driven are at a serious disadvantage—but political data is only as useful as your ability to interpret it and apply it.
At Aristotle, we are widely regarded as the clear leader in political data and data analytics. In this article, we'll highlight the key things that you should understand about data analytics, machine learning, and how the most advanced methods of data analysis can produce results for campaigns, political action committees (PACs), issue advocacy groups, and other players in the industry.
An Overview of Data Analytics
There is no question that there is more political data available than ever. Anyone in the field is likely to run into a wide range of different numbers—from polls to election results to donor history to social media posts. Political data can be both quantitative (numerical) and qualitative (descriptive).
Political data is also easier to access than ever before as there are many public and private resources available. The vast amount of useful information that is available can be both a blessing and a curse. Even the most accurate and comprehensive political data is not very useful if you do not know how to use it. This is where data analytics come into play.
Investopedia defines data analytics broadly as the "science of analyzing raw data to make conclusions about that information." In effect, data analytics is used for the discovery, interpretation, communication, and application of data. There are several subcategories within political data analytics, including:
Descriptive analysis;
Diagnostic analysis;
Predictive modeling and analysis; and
Prescriptive analysis.
What Is Machine Learning?
You have probably heard a lot about artificial intelligence (AI), machine learning, and other related matters in recent years. There are a lot of myths and misconceptions about exactly what machine learning is and what it can do. As well described in an article published by the Massachusetts Institute of Technology (MIT), machine learning is essentially a subfield of artificial intelligence (AI) through which "computers have the ability to learn without explicitly being programmed."
In other words, machine learning occurs when computer algorithms improve themselves through their experience with (and use of) the data they receive. Computers that use machine learning and other similar techniques are built to make predictions and "decisions" without any explicit programming from a human. This is in sharp contrast to more traditional computer tech where all calculations, predictions, and "decisions" are more directly programmed by a human.
How Machine Learning Changes Political Data Analytics
Machine learning offers incredible promise in many different fields, including science, math, consumer technology, medicine, and public policy. In fact, machine learning and predictive data modeling are already changing the way that election and advocacy efforts are being run. Indeed, this is where data analytics and machine learning truly come together. People have long been interested in collecting and analyzing data to run more effective campaigns and more successful public policy pushes. More than a century ago, presidential candidate William Jennings Bryan and his supporters had a catalog of several hundred thousand index cards of basic voter information.
Of course, political data analytics have come a very long way over the last 100 years. Machine learning is once again changing the game in electoral politics and political advocacy. The most advanced computer algorithms that rely on high level computational statistics offer a far more granular analysis of potential voters, potential voters, and the public perception in general. With machine learning, computers help campaigns, PACs, advocacy groups, and consulting firms discover ways to think about and use political data that they never would have thought of otherwise.
Machine Learning Makes Microtargeting far More Effective
For an example of how machine learning impacts modern electoral campaigns and political advocacy, consider microtargeting. The term 'microtargeting' truly first hit the American political lexicon in 2004. The head strategist for the re-election campaign of President George W. Bush, Karl Rove developed a microtargeting strategy designed to connect better with individual voters. The general strategy was to craft and present different types of messages for different audiences.
While a significant innovation, the 2004 microtargeting efforts of the Bush reelection campaign are now dramatically behind what can be done with the most advanced machine learning. With the predictive algorithms developed through data analytics and machine learning, microtargeting is now far more effective. It is easier to accurately predict voting propensity, voting intention, and donor potential with a relatively small number of different points.
Aristotle Connects Clients with Political Data and Analysis
Developing into a global leader in campaign management and political data, Aristotle has always remained at the forefront of technology, including regarding the recent advances in data analysis and machine learning.
Indeed, our firm has even been honored with an award for the best use of data analytics/machine learning. We work with a wide range of clients—from state and federal election campaigns on both sides of the aisle to single issue political advocacy organizations—and we are always driven to connect them with the right tools and resources that they need to deliver results.
Get Help with Political Data Analytics Today
Aristotle is the most trusted provider of political data and political data services. We offer an award-winning National Voter File with more than 235 million registered voters, a National Donor File with more than 163 million donations, and more. Working with clients on all sides of the political spectrum, our team is dedicated to customer service. If you have any questions about how to better utilize data analytics, machine learning, or data in general, we are here to help. Contact us today to learn more about our political data services. We are proud to work with election campaigns, political organizations, and other clients in all 50 states.