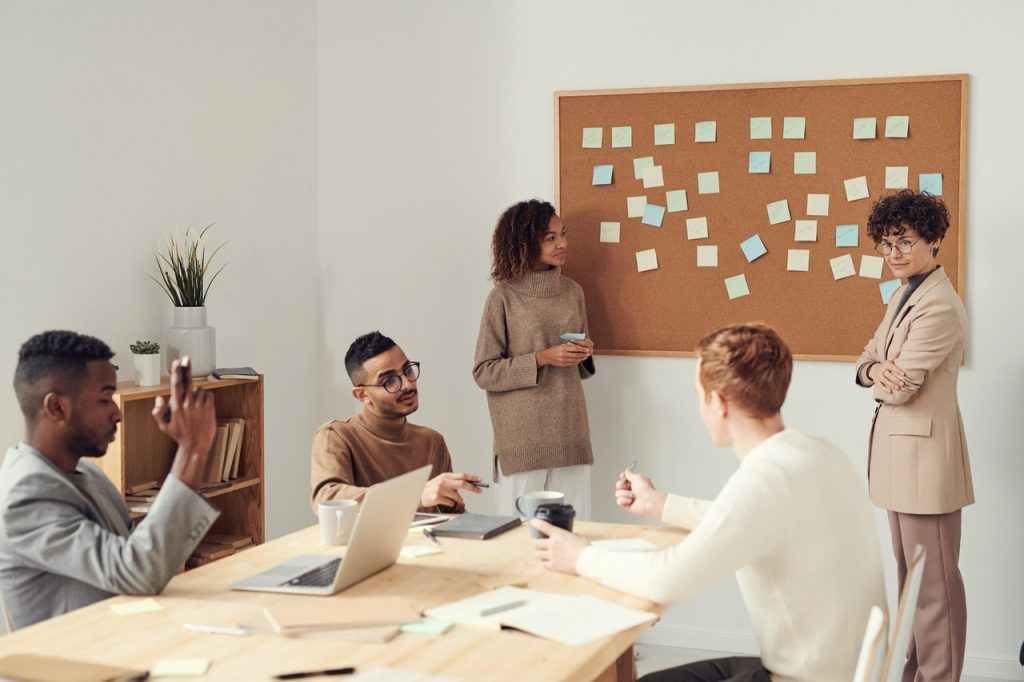 As the election approaches, political campaigns seek avenues to reach out to their constituents, asking for their support. This is where effective campaigning can play a vital role in winning voters' hearts and striking an emotional connection. The rise of social networks and the emergence of mobile devices have changed how modern-day political campaigns run these days. It's vital that you get creative with your campaign in order to reach voters the best and we'll look at some of the top election campaign ideas.
Eight Ideas for a Local Election Campaign
Here are the top marketing ideas to promote a local election campaign.
1. Create a Logo and Slogan
Your logo will become your party's identity and appear on all political material for the campaign. People can associate emotional attachments to logos so it's important to create a logo that not only represents who you are, but also depicts your approach towards the burning issues.
Similarly, a slogan can work just like a logo and can catch on with people. Your slogan can act as the basis of your speeches, and what you plan to bring to the elected office, local or national. This will become your brand identity, for better or for worse, so be sure to pick something that centers on the heart of your message and what you stand for.
2. Tell a Story
The success of your election campaign rides on whether your supporters feel the emotional connection with who you are and if you can help resolve their issues. It is best to create a story around your campaign and the causes you are supporting. Creating a story and bringing this emotional connection can help supporters identify with your causes. They will feel a bonding that you are the relatable candidate who brings solutions to their problems.
3.  Build a Dedicated Election Campaign Website
While your party may already have a website, building a dedicated website for the upcoming election is essential. This will allow your voters to visit the website to get the most recent and relevant information. You must be consistent in the design aspect and use the same logo, design, image, font, colors, and slogans on the website as you would on t-shirts, flyers, brochures, and social media pages. Connecting this website with your social media platforms will help increase traffic to your official campaign website and earn supporters.
4. Use Social Media
You don't want to miss out on any avenue for promoting your agenda and stance. Social media networks are the most widespread source of communication today. You can use platforms such as Facebook, Instagram, and TikTok to interact with your followers and engage them in meaningful debates on the upcoming elections.
The best part is that political social media marketing targets your audience based on demographics such as age, gender, profession, needs, location, etc. This can help you customize your audience outreach for each issue.
For instance, your manifesto includes better support for senior citizens or veterans. You can customize your promotion by targeting senior citizens, veterans, and families. Similarly, you can optimize each outgoing promotion to its targeted audience. Social media platforms also allow free live video sessions. This is a great way to reach out to your voters in their living rooms by conducting live seminars, virtual town halls, and Q&A sessions.
However, make sure your party's logo, slogan, images, color, font, and other creative aspects are all part of your social media pages and content.
5. Use Email Marketing
Although digital media has taken the world by storm, emails remain the most effective marketing tool for promotion. Typically, political email marketing will be free-of-cost.
Aristotle offers an array of political data services, including email lists of current voters. We've done the work for you so you can spend time on other aspects of marketing your campaign. You'll be able to send frequent updates to your supporters, all from your desk.
From targeting new potential voters to engaging existing supporters, email marketing can help you reach the masses with minimal effort.
6. Send Newsletters to Followers
Newsletters are an efficient medium for political candidates and parties to promote or share their views and ideas. Publish newsletters with details on the causes you support and the solutions you propose for your followers'concerns and issues can help win their hearts.
A well-drafted newsletter can help turn your local political campaign into a strong brand that people can trust. Use your newsletter to educate constituents about your political agenda and how it can benefit common voters.
7. Distribute Brochures and Flyers
Looking for local election campaign ideas on a budget? Then flyers are it. Flyers are the most cost-effective and quick way to convey your election campaign's message to the people. Simply choose the right flyer size and publish the core message of your election campaign with your party's logo, slogan, images, and other design aspects. Brochure and flyers can be handed out to people in busy areas or sent through snail mail to all voters in an area. Aristotle's voter data can streamline this process as we've collected data on millions of voters and our data can help you target likely voters.
8. T-Shirts for Campaign Workers and Supporters
Visibility means everything in marketing; the idea is to imbue your image in people's minds. The more they see your brand (in this case, campaign name and logo), the more sense of familiarity they will feel. One of the best local election campaign ideas is to design campaign t-shirts depicting the candidate's picture, party's logo, symbol, or slogan.
Getting people to wear your campaign t-shirts will turn them into walking advertisements for your campaign.
Aristotle's Campaign Management Software
Whether you are a political candidate or a party, Aristotle's cloud-based campaign management platform is what you need to support and organize your political campaign. We also host extensive databases on voter information and demographics so you can easily plan your marketing strategies to fit your voting base.