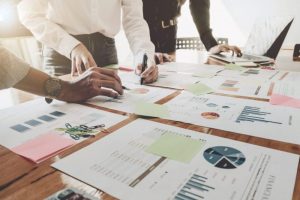 Funding campaigns, raising voter awareness about important issues, and generating attention to key pieces of legislation require significant amounts of capital.
While candidates can acquire funding from individual donors, doing so can be impractical. Political action committees (PACs) were created to expedite the collection and delivery of funding for legislative initiatives or political campaigns.
Understanding PACs is critical to obtaining adequate funding for your state-level or federal political candidate. Join us as we examine PACs, including what they are, how they work, and the various types of committee structures you can leverage to maximize their benefits.
What Is a PAC?
A political action committee is a committee that consolidates campaign contributions from party members and donates them to fund legislation, ballot initiatives, or campaigns. PACs are generally started by individuals or corporate entities that want to support a specific set of ideological, labor, or business interests.
The first political action committee was created in 1944 as a means of raising money for Franklin D. Roosevelt. Since then, PACs have become a staple of American political campaigns.
Generally speaking, PACs are used to support federal elections and national legislation. However, they can and often are used at the state level.
How Political Action Committees Work
Under federal law, an organization becomes a political action committee when it receives or spends more than $1,000 to influence a federal election.
A PAC can only donate up to $5,000 to a candidate per election. For instance, a PAC could provide a candidate $5,000 in funding during the primary election and an additional $5,000 for the general election.
PACs are given a national party committee limit of up to $15,000 per year. A political action committee can give $5,000 per year to another PAC as well. An individual can only donate $5,000 annually to a PAC; however, each PAC can have a virtually unlimited number of donors as long as none exceed the $5,000 cap.
Every federal political action committee is required to register with the U.S. Federal Election Committee. The PAC must register within 10 days of formation and is required to provide an address and name to the FEC.
State vs. Federal PACs
Whereas federal political action committees are regulated by the Federal Election Committee, state-level PACs are governed at the state level. As such, you'll need to familiarize yourself with relevant state laws when forming a PAC for the purposes of influencing a state electoral process.
If you intend to raise funds and donate them to support a candidate running for state office, you'll likely need to register as a PAC. Be especially mindful of funding limits, donor identity disclosure requirements, and fund-disbursement protocols to avoid fines or other penalties.
Types of PACs
There are several different types of political action committees. Choosing the right PAC structure can provide the necessary flexibility to support your candidate and relevant party legislation. Some of the PAC structures you can leverage include the following.
Nonconnected Committees
A nonconnected committee isn't sponsored by a particular political party, organization, or entity. As such, it can accept contributions from a wider range of individuals.
However, prospective donors may have reservations about supporting a nonconnected committee, as they don't know if their dollars will be used to fund a cause they support or oppose. That said, this PAC infrastructure is best suited for funding widely supported initiatives, such as legislation geared toward reducing greenhouse gas emissions.
Separate Segregated Funds (SFFs)
Separate segregated funds (SFFs) is a PAC structure established by trade associations, membership organizations, labor unions, or corporations. These committees only receive funding from donors affiliated with the sponsoring entity.
Typically, SFFs support specific business or labor group interests, such as wage increases. These groups are often extremely passionate about the issues or campaigns they're involved with, as the outcome of an election can directly impact their quality of life.
Leadership PACs
A leadership PAC is established by an individual holding a federal office. Political leaders, such as members of Congress, often create these PACs to support party candidates. They're limited to contributing $5,000 per candidate per election.
Super PACs
Super PACs were created as a result of the landmark case, Speechnow.org vs. FEC. Prior to this ruling, provisions in the Federal Election Campaign Act limited the contributions individuals could make to PACs like Speechnow.org.
In March of 2010, however, the D.C. The Circuit Court of Appeals ruled that these provisions violate the First Amendment, meaning Speechnow.org (and other PACs) could accept unlimited contributions.
By registering your fundraising committee as a Super PAC, you can circumvent the $5,000 per donor rule and receive unlimited contributions from other PACs, labor unions, corporations, and individual donors.
Hybrid PACs
Hybrid PACs can function as both a Super PAC and a PAC. They must maintain separate accounts for normal PAC fundraising and Super PAC activities.
Power Your PAC with Aristotle
Regardless of the type of PAC you choose to create, you'll need access to timely, relevant data to power your fundraising efforts. Enter Aristotle, the leader in political data.
We provide digital solutions to manage every facet of your political action committee, from fund tracking to communicating with donors. We also offer a mobile app that you can use to reach a wider base of donors.
Schedule a demo today to learn more about Aristotle and where it can take your cause.