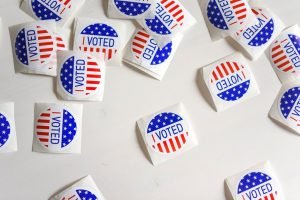 The time of the baby boomers is coming to a close.
While many believed that Generation X was the heir apparent, millennial voters have surpassed them in terms of both size and political influence. In light of this, campaign managers and politicians must familiarize themselves with the voting patterns of millennials, as they're already influencing the tide of election cycles.
In the coming years, millennials will continue to impact elections at the local, state, and federal levels. Let's take a closer look at millennials and their demographic and political characteristics, including how large this generation is, how they tend to vote, and what issues are driving their participation in elections.
How Many Millennials Are There?
Millennials include anyone born between 1981 and 1996. According to Statista, there are approximately 72.19 million millennials in the United States. Comparatively, there are just over 70 million baby boomers, 65.8 million Gen Xers, and 68.6 million Gen Zers. Millennials make up nearly a quarter of the U.S. population.
For decades, campaign managers could rely heavily on baby boomers and Gen Xers to influence the direction of elections. While these generations still play critical roles in election cycles, millennials and Gen Zers can have the biggest impact on future campaigns.
Additionally, younger members of the millennial generation can exhibit characteristics of Gen Z. For instance, they're accustomed to technology being ingrained in their daily lives and are very likely to interact with campaign content via their smartphones.
Millennials Compose Over One-Fourth of the Voting Population
The number of baby boomers is in a rate of steady decline. Additionally, the Silent/Greatest Generation's population has decreased sharply over the last 20 years. Conversely, nearly all millennials are now eligible to vote. As a result of this shift, millennials compose 27% of the voting population, and this figure is rising.
In 2018, millennials and Gen X outvoted Boomers and the Greatest Generation. This trend continued during the 2022 midterms.
Why Millennials Are Key to Future Elections
Millennials are key to future elections for two simple reasons. First, they now comprise the largest group of eligible voters, and the margin is growing. Second, and perhaps more importantly, millennials seem to be getting more active in election cycles.
Campaign managers must capitalize on these trends by designing campaigns that resonate with millennial and Gen Z voters. Doing so will help candidates maximize voter turnout and achieve their campaign goals.
Key Issues and How Millennials Feel About Them
Three key issues seem to be on everyone's mind these days, including millennial voters. These include:
Climate Change
According to the Pew Research Center, 71% of millennials believe addressing climate change should be a major priority.
Pew researchers also found that approximately one out of four millennials has taken action to address climate change. Additionally, they discover that 40% have engaged with social content that discusses taking action to address climate change.
Campaign managers can incorporate this data into their social media strategies to connect with millennials. Sharing the candidate's views about climate change can drive better engagement and ultimately impact voter turnout.
Abortion
According to the Center for Information & Research on Civic Learning and Engagement (CIRCLE), 44% of voters ages 18–29 cited abortion as the issue that had the biggest influence on their decision to vote.
Comparatively, 31% of voters ages 30–44 considered abortion the most important issue in this election cycle. A slightly larger percentage of 30–44-year-olds (34%) considered inflation the top issue when deciding to vote.
Candidates need to address this topic while on the campaign trail. Generating content that keeps voters up to date on important abortion legislation can encourage better voter turnout.
Gun Policy
Addressing gun violence is also a major concern for both millennials and Gen Zers. Based on the aforementioned CIRCLE survey, 13% of voters ages 30–44 cited "gun policy" as the main reason they voted in 2022. Nearly one in 10 (9%) voters ages 18–29 were concerned about gun policies.
While abortion and climate change seemed to be bigger issues among millennial voters, campaign managers can't afford to ignore gun policy. They should ensure that candidates clearly address these issues so voters know where they stand. Doing so can mobilize millennials and sway the outcome of an election.
How Aristotle Can Help You Connect with Millennials
As the largest generation of active voters, millennials have the power to shape the political landscape for decades to come.
Whereas older members of this generation tend to be very active in election cycles, younger millennials are still coming into their own. With that in mind, your campaign strategy must address this key demographic and mobilize voters in order to achieve desired outcomes for the candidates you support.
While there are many ways to increase the efficacy of your campaigns, it all starts with the right political data. Harvesting, mining, and analyzing data independently is a laborious and resource-intensive process. Fortunately, you can tap into the data you need by connecting with Aristotle, an award-winning data provider.
Our database includes a National Voter File composed of more than 235 million registered voters, a consistently refreshed New Mover File that lists one million monthly U.S. moves, and a National Consumer File with over 250 million consumers.
To learn more about how Aristotle can fuel your campaign with relevant, timely, actionable data, contact our team or schedule a demo. We look forward to helping you achieve your campaign objectives.