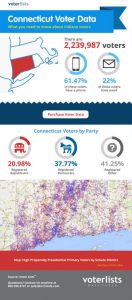 Our Voter Lists™ site has been updated with the latest Connecticut voter data.
Their voters are registered as:
20.98% Registered Republicans
37.77% Registered Democrats
41.25% Registered Others
Connecticut has just over 2.2 million voters, and we have all the information you need from voter propensity scores to the technological habits of their voters. All this information will help ultimately help you know how to reach the constituents you need.
VoterLists™ also offers data for every other state, so that you can plan strategy for your campaign no matter what state you will find yourself tackling next!
For all of your political technology needs contact your local Aristotle representative today!