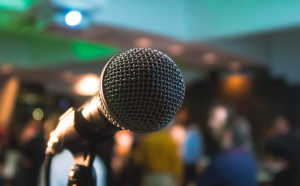 Hosting a political campaign event is an excellent way to draw attention to important issues, allow constituents to get to know candidates, and mobilize voters before an important election cycle.
However, a finite amount of time and funding is available to arrange such events, meaning campaign managers must be prudent when selecting which strategies to use in the lead-up to election day.
Overinvesting in a minimally impactful campaign can leave your candidate short on votes, whereas selecting the ideal combination of events can ensure that your team outpaces the competition. With that in mind, here are seven of the best political campaign event ideas you should consider weaving into your strategy.
1.   Town Hall Meetings
Town hall meetings are the ultimate tool for introducing candidates and their views to the world. During a town hall meeting, constituents can interact directly with a candidate, ask questions, and voice their concerns.
Before scheduling a town hall, it's important to ensure that the candidate is well-read and prepared to answer tough questions in a nuanced and organic way.
If you want more control over the event, consider hosting the town hall via a live Twitter, Instagram, or Facebook stream. That way, you can filter out inappropriate questions and keep the conversation focused on key issues.
2.   Grassroots Voter Mobilization
Grassroots campaigns are all about mobilizing voters and building a movement. These campaigns must center around an important idea, not necessarily the candidate themselves.
To employ this strategy, you must first identify a clear idea to use as the foundation for your campaign messaging. Typically, this idea is an important issue, such as women's rights or climate change.
Once you've chosen your concept, you should connect with audiences at the community level. To do this, work with local nonprofits and faith organizations. Recruit volunteers, encourage donations, and keep the conversation focused on the issues.
3.   Text-to-Give Campaigns
Investing in donation software gives you the opportunity to connect with prospective donors via their mobile devices. With the right technology at your disposal, you can create custom fundraising campaigns and solicit donors via text or email.
Text-to-give campaigns typically follow a standard process, which involves the following steps:
The donor texts your campaign number
They receive an automated message that includes the link to your donation site
They select their donation amount and provide their payment information
They receive a digital receipt via email or text
Text-to-give campaigns are highly effective because they make it easy for donors to give and allow them to submit funds using their mobile devices.
4.   Neighborhood Canvassing
Canvassing the neighborhood is often viewed as an old-fashioned strategy. But it can still be highly effective, especially when used to generate awareness about important issues. There are multiple ways to canvas a neighborhood, including going door-to-door to talk directly with voters and putting yard signs up at busy intersections.
When arranging a neighborhood canvas, choose your volunteers wisely. Participants need to be personable, level-headed, and kind. Responding to rejection with patience and grace can leave a lasting impression on voters and encourage them to learn more about opposing candidates.
5.   Social Media Campaigns
Just about everyone is on social media these days, making these platforms among the most powerful channels for connecting with voters. To maximize your political campaign's reach, incorporate several social media channels into your strategy.
Facebook and Instagram are foundational to any social media campaign. However, relative newcomers like TikTok can also be valuable, especially when attempting to connect with younger voters.
That said, you'll need to ensure that your messaging is consistent across all channels, even if you have to modify the style and format of the content.
6.   Email Solicitation
Although business marketing and political fundraising are unique endeavors, they share a number of similarities. That's why many sales and marketing tactics can often be adopted for political fundraising purposes. Email-based solicitation is a prime example.
When used for sales purposes, email has a return on investment of 3,600%, which means that every $1 spent on email marketing yields approximately $36 in return.
Measuring the ROI of political email campaigns is a bit more challenging. However, setting up an email campaign is a cost-effective way to connect with donors, generate revenue, and draw attention to important issues.
7.   Small Donor Fundraising
Small donor fundraising involves reaching out to a large number of prospective contributors and encouraging them to provide a small donation, usually under $100.
Although pursuing small donations may seem like a time-consuming chore, these campaigns can quickly gain traction among constituents, resulting in tens of thousands in funds when it's all said and done.
To maximize the impact of small-donor fundraising strategies, encourage contributors to sign up for recurring donations. If a donor is willing to give a one-time gift of $10, they may be equally interested in giving a recurring monthly donation of the same amount.
Make an Impact with Aristotle
Coming up with a winning idea for your political campaign event is an excellent first step. But if you want to bring that concept to life and influence the political ecosystem, you need access to powerful data insights.
With a National Consumer File of over 250 million consumers and a National Voter File composed of more than 235 million registered voters, Aristotle can provide you with the data you need to plan your campaign event.
We also provide tools for managing political action committees, raising and collecting funds, and generating detailed reports to gauge the efficacy of your efforts. Schedule a demo today to learn more.