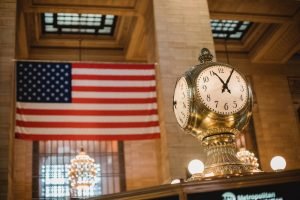 Does it feel like elections take a long time? It's probably because they do. National Public Radio (NPR) explains that the structure of our electoral system means that campaigns last longer than they do in most other countries. This raises an important question: When should a candidate start campaigning for an election? The short answer: As soon as possible.
At Aristotle, we are committed to being the leaders in political consulting, campaign management software, and political data. Our team of experts will make sure you have the tools, information, and resources to run a successful campaign. If you have any questions, don't hesitate to contact us to learn more about Campaign Manager, the only three-in-one campaign management software. Read on for a guide to the key things to consider when deciding when to start your campaign for an election.
The Simple Answer: Start Campaigning as Soon as Possible
The most straightforward answer is to start campaigning for political office as soon as possible. Once a campaign is finished, there are going to be people—strategists, lobbyists, potential candidates, top donors, etc.—who are already looking forward to the next election cycle. The process can move especially quickly when there is an election every two years, such as with the U.S. House of Representatives. For seats that last six years—the U.S. Senate—things may not move as quickly as there are multiple election cycles before the next race.
Still, potential candidates and their allies need to understand that major political players are always looking ahead to the next campaign season. Of course, that does not mean that you need to announce your candidacy for 2024 in November of 2022, the day after the election results are reported. Quite the contrary; doing so would certainly be rushing through the process. A campaign starts way before any official announcement of candidacy is made.
Preparation Starts Before a Campaign is Officially Launched
What does it mean to start campaigning? It is a complicated question. You could say that a campaign starts when a candidate officially announces that they are running for office. Of course, a lot of work has to be done before a candidate can make such an announcement. This is one of the primary reasons why it is so important to start campaigning early: The pre-announcement period is a key aspect of running a successful election campaign. Here are some of the key things that happen in the pre-announcement campaign period:
Test the Waters: Before diving into an election, a candidate needs to test the waters. Is there sufficient support to make a campaign viable? Does the candidate have the time, energy, and passion to go the distance? Testing the waters can be done both informally and through an official exploratory committee. The Federal Election Commission (FEC) explains that an exploratory committee is not an official political committee and is not required to register.
Line Up Early Support: A key part of testing the waters and exploring whether a campaign is viable is lining up early support. Campaigns want to come out strong. This requires resources—including contributions from donors and support from volunteers. Aristotle Donor Insight helps political candidates identify potential contributors and raise the funds that they need to get their election campaign started on the right foot.
Lay the Groundwork: Finally, campaigns also need to lay the groundwork. Before an official announcement of candidacy can be made, campaigns must have the right structure in place. Campaign infrastructure and campaign management matter. Here is an example: What is a candidate going to do the day after they officially announce that they are running for political office? If you do not already know the answer to the question before you announce, your campaign is almost certainly a step behind the competition.
Launching a Campaign: Know the Basics
Understanding the importance of starting early, being proactive, and laying the groundwork, you may still have some questions about what a candidate and their campaign team need to do in the early stages of the election. Among other things this includes:
Form a Proper Political Campaign Committee: There are federal and state rules and regulations in place regarding campaign contributions. A candidate needs a properly established campaign committee before they can start officially accepting donations and/or spending money.
Prepare the Paperwork for the Board of Elections: Before officially announcing their candidacy, a candidate should have all of the required paperwork in order. Make sure you get everything you need for the Board of Elections—including things like the Statement of Candidacy, the filing fee information, and the Statement of Organization.
Develop a Clear Message: Candidates need a campaign strategy. Does the candidate know why they are running for office? Can they clearly articulate their positions? Candidates must be able to launch their campaign effectively with a clear and compelling message that is tailored to their audience.
Organize and Utilize Your Lists: Political data is key in modern campaigning. Successful candidates can effectively organize and utilize their lists. This means knowing who to ask and what to ask for among potential donors and knowing how to connect and engage with volunteers. Candidates that struggle to get political contributions and political volunteers for their campaign are rarely successful. Campaigns must be able to come out of the gate in a strong position.
Aristotle Is a Leader in Campaign Management Software
Campaign Manager™ is Aristotle's award-winning, cloud-based campaign relationship management platform (CRM) designed by campaign veterans for political and non-profit fundraisers and treasurers. It's the only campaign three-in-one product for compliance, fundraising, and preparing and submitting accounting and other business reports — eliminating the need to maintain different databases or migrate data into a separate filing product.
At Aristotle, we've been doing campaign software since 1983 and we've seen it all. Campaign Manager™ is everything you need to run a successful campaign. Contact us today to learn more about how Campaign Manager and our award-winning political data can help you.